1/190
"I remember when Matt showed me that photo during the wedding that I looked at him and said that 'he had earned his paycheck all with one photo.' You couldn't ask for such a spontaneous moment to be captured."
- Tyson & Amanda
2/190
"It had been a crazy day, week, 6 months to say the least. This was our first location to take photos in a snow storm. We were a bit confused why were getting under/inside this tree's branches, but thankful for the cover. Matt just told us to look at each other, suddenly everything else went away. The weather and the craziness of trying to get ready in it (at this point I'm not sure if we even knew where the reception was going to be that evening, with airports being closed and the city almost being shut down, all our original wedding plans had been cancelled the night before). But under that tree it was just us and we were married and that was all that mattered."
- Kiley & Nathan
3/190
"When I look back at this photo it makes me laugh, one of those good quiet laughs, the ones that make you realize this secret moment is forever captured. A moment that forever will bring happy tears to my eyes and a warm feeling over my heart.
- Teresa & Mat
4/190
"Five minutes before this photo was taken, my bridesmaids showed up with bouquets that....were completely different than the ones we had spent all day making the day before. They had all frozen in the cooler we were keeping them in, and while Daniel and I were taking photos alone, they went to the local grocery store, bought out their flower stock, and remade all new bouquets. I think this was one of my favorite moments during the day -- doing this silly kick line with all of the people we had chosen to stand with us that day, who turned out to be total superheroes. It was my "all disasters aside, all that matters is I'm here with the love of my life and our closest friends" moment, and I didn't stress over a single thing the rest of the day."
- Amy & Daniel
5/190
"We were walking to new location for some awesome outdoor pics. All of the sudden Matt had us crossing a busy road and was directing us through 4 lanes of traffic. We had no idea what he was seeing, to us we were under an overpass. We were more excited about the sun being out than standing here, but the results of this adventure are more wonderful than either of us could of ever imagined."
- Carrie & Rich
6/190
"Time only stops for love and photographs. The future finds comfort inside the past. I remember being in front of the lens. Time stays still in moments like this. My mind is tailored like a suit. Patience and panic compete and compute. Feathers affix a flutter into the breeze. The dry leaves cling tightly to the trees. I crouch down with veins popping out of my skin, just waiting for the wrinkles on my suit to sink in. My heart beat is violent beneath the vest, and fear drives the birds back to their nest. The background blurs. I look at myself now and i think of her. I walked into this picture to marry my best friend.and I'll be in it for the long run, until the end.
A quick bit of stream of consciousness...
Let me explain...here is what I remember from that day: I remember her smile. She was so happy. That was the most important thing. The world could have dissolved and I wouldn't have cared as long as she was happy. I remember feeling something interesting when this picture was taken. This may make many people want to vomit, but it is true - in those moments, in my mind, everything was blurry but her. This photograph represents this in some way. It does for me at least. She was the reason I was thereand she is there reason I will always be there.
I also see some comedy in this photograph:
A soon-to-be-groom smiling at some chickens. A flight risk. A true symbol of fear and terror. This observation has nothing to do with how I felt, but it crossed my mind when cross-examining it - seemed kind of funny to share"
- Jason & Nicole
7/190
"Superman that ho indeed.... No wedding is complete without a Soulja Boy reference. I don't think our parents got the joke though. We had such a blast that night. We love dancing, but we are horrible at it. We are so glad everyone shaked their asses off! And as evident in this photo, we will always wave our hands in the air and wave them around like we just don't care."
- Laura & Aaron
8/190
"I remember being asked..."are you shy" normally I really am I but I trusted whole heartIy. I'm so happy I did. "
- Heather & Doug
9/190
"An insane lad, a heathen, a hero, a thin white duke – oh, and a room full of you pretty things – all present and accounted for one October 15th. I see an image forever holding this moment."
- J & Erin
10/190
"This is definitely one of our favorite portraits from our wedding. Every time I see it, I want to blow it up to poster size and put it in every room. My self control has worked and it is happily its home in a bound book we ordered."
- Lesley & Mike
11/190
"Marrying the girl I've been in love with since I was 15? Check. Having my best friend from when I was 12 by my side? Check. Having a brother in law that I can consider one of my closest friends? Check. Having to chose one best man when my three brothers are each some of the best people I have ever come across? Nope – Just have them all be best man, "Full House" style."
- Alex & Alison
12/190
"Seeing this now reminds us of how perfect the day was. We were so comfortable and our happiness shines through. It takes us back to the bright, sunny day we shared on a beautiful location."
- Heather & Keith
13/190
"After getting all dolled up and having blue and red lights cast on you, you have to wonder what the hell is going on. Was't sure if we were going for a zombie moment or what, but this series has become my favorite stills of myself ever taken."
- Amanda & Tyson
14/190
"This sends me straight back to how beautiful it was to share this moment with Winston before the ceremony. Being in his company calmed my nerves and filled me with pure joy that we were not far from becoming husband and wife. He is so handsome - How did I get so lucky?!"
- Jess & Winston
15/190
"We felt on top of the world. And we were quite literally in that moment as we teetered on side tables peering out over Manhattan's skyline. The emotion that we experienced so explosively on that day, we can relive in looking at this photo. I didn't totally expect our photos to revive so many of those feelings of "the day", nor did I expect those feelings to be so strong..but they do and they are."
- Allie & Brian
16/190
"This photo truly captures how we were feeling in the instant it was shot - we had just seen each other for the first time and we were walking on air! Matt captured our excitement in such a fun and creative way, and we love looking back at this photo and so many more killer shots from our big day. "
- Casey & Troy
17/190
"Then: I hope my nose doesn't look too big from this angle.
Now: Matt Miller you are a master of lighting!"
- Nazli & Larry
18/190
"I will follow this man to the edge of the earth...he keeps my heart safe!"
- Aimee & Brian
19/190
"I loved looking down at my bracelets that day. My husband bought me the gold ones. My new mother gave me the colorful ones. The blue one was my grandmother's who I never had the chance to meet. The mehndi is for good luck and decoration. It is a stain from henna leaves that requires many hours to apply. The bride is typically adorned with the most, covering her hands, arms, feet and ankles. Others in the wedding also wear it to wish the bride and groom good luck in their marriage."
- Rachel & Virat
20/190
"Dexys Midnight Runners vs Foster the People in a Big Sur Dance Mob throwdown for the ages. Nothing says "we love you" like a group of your friends and family from all over the world learning two very elaborate and somewhat ridiculous flash mob dances via youtube. We love them too. This was such a wonderful and unforgettable scene."
- Shoshana & Ian
21/190
"Looking back at this one all I can think is... I didn't know Adam could kick that high?! He took the instruction to step high very seriously. Look at his face. LMAO!"
- Tim & Ethiopia
22/190
"How sweet it is, indeed. Brooklyn has played a key role in our relationship. It's where we met, romanced, moved in, married, and a few years after these were taken welcomed our daughter. Putting on our wedding attire the day after our actual wedding really brought about an opportunity to reflect and be in that specific moment with each other. We weren't swept up in any wedding day jitters or the formality of a ceremony, we just existed together alongside the lights of Coney Island (and a few on lookers). Looking back, these images are an extremely dear and meaningful gift to me. And thankfully, Matt was not run over in the process. "
- Lynn & Eric
23/190
"Pre-ceremony geek-out! I'm so thankful that Doug and I decided to see each other before the wedding. We couldnt stop smiling, laughing and crying. It was a great moment that I will never forget."
- Rachel & Doug
24/190
"There has never been a dress shot so perfectly in the whole wide world. i can't help but crack a smile every time i see this. it must have been a sight seeing matt climb up there and hang my wedding dress. but he could have at least brought me back a beer since he was already there."
- Stephanie & Adam
25/190
"We call this one terminator because Jesse looks like a robot set to destroy. She was probably just in the zone, or maybe this is when it started raining for a bit."
- Jason & Jesse
26/190
"This was the first picture of the two of us together after the ceremony. It completely blows my mind!! capturing the trees and the color is amazing!"
- Summer & Brittan
27/190
"We first wound up at The Postcard Inn when we were shooting an Elvis Convention nearby in Tampa and found the cute hotel as a quick escape from all the "hound dogs" with awesome hair because it was Valentine's Day. We fell in love with the place but never imagined a couple years later we'd be saying "I Do" on the beach right in front of it."
- David & Kendrick
32/190
To be treated with such respect, love and understanding is such a gift. You hold me up even when I don't think I can keep going and you pick up where I can not continue. I love you so much and I am so lucky to have you!
- Rachel & Justin
33/190
"These are the people who made our wedding hilarious and easy, and so long as we have these people with their arms around us, everything is in it's right place... forever and ever. Could not love them more."
- Austin & Kathleen
34/190
LEFT: "Our wedding was truly something that reflected our personalities as well as our love for each other. The moment captured in this photograph, right after the ceremony, was one of our first as husband and wife. It was a playful and peaceful moment, and it is exactly the way we want to remember that day."
- Lauren & Shil
RIGHT: "This moment was the first time we were able to take a breath and unwind with our friends and family. It's one of our favorite photos, and seeing it now is a reminder of how fun it was for all of us to be together. "
- Tiffany & Zach
35/190
"I still remember us both sniffling into each other's ears as we both cried during our first dance. Makes my eyes water up now."
- Kendrick & David
36/190
"The perfect image to show the explosive power of our marriage. Sparks were flying ever since our first date"
- Summer & Brittan
37/190
"These men standing behind me have had my back, at various times, since I was 3 years old. They have seen me grow up, get into trouble, get out of trouble, and fall in love with my best friend."
- Josh & Christina
38/190
"We did visit the museum several times and I always pictured saying our vows right under those tusks. I knew that wasn't logistically feasible, but having our first look there was even better. I got to have a private moment with my honey before all the commotion started. I envisioned these pictures coming out well, but I had no idea how spectacular they would look. Everyone who sees this picture loves it, and many have said they wish they could go get married in front of a prehistoric beast. "
- Kelly & Chuck
39/190
"I melt every time I see this photo. Maddie is our god daughter, our best friend's first born and the most important little person in this world. Like the perfect flower girl does, she got a little scared, so she decided to walk down the aisle with me and my parents instead of the other flower girls. To this day she still says "Auntie Kathleen, remember when I married you?" And I can't ignore the amazing barefoot groves of Louisa in the background, she was our lead singer's sister who crashed the wedding weekend and was so fun to have around! Before we know it Maddie will be her age, and we'll all have our shoes off on a dance floor in honor of her."
- Kathleen & Austin
40/190
"This is one of our favorite photos. It truly captures the feeling of that day. Being surrounded by family and friends as we exchanged our vows was an incredible feeling we will never forget. So much love. We felt on top of the world."
- Eric & Lauren
41/190
"We intentionally set aside time to reflect on our joy during the event: to just be in the moment. After that moment when this picture was taken, we turned the corner to head downtown and I remember the line of a song echoing briefly in my head, "...joy it tends to hold you with the fear that it eventually departs". I recollect smiling with joy and forgetting the fear."
Lindsey & Andy
42/190
"Being the big brother, I always put forth an effort to be a good role model. Seeing my baby brother suit up for my wedding wearing the same X Swatch I wore when I was 18, makes me feel some sort of fulfillment as to that goal."
- Alex & Alison
43/190
"This photograph is a favorite. I remember that moment being the calm in the pre-wedding storm. It gives me a sweet burn when I look at it...even over a year and a half later. I relish this moment. ...And I love that Matt got me to stand on a small, shaky side-table, 20 floors above the ground, right beside a deck railing without hesitation or anxiety. To relinquish these fears takes a lot of trust and comfort, which is the great thing about him. In the crazy of the day he is a calm but fierce force who just does his thing with ease. And you want to let him do his thing because you know the result is going to be insane."
- Brian & Allie
28/190
"Looking at this image now I'm extremely happy that the weather was amazing considering it rained the previous three days. This photo represents decades of family and friendship that I hope to be surrounded by for decades to come."
- Travis & Tara
29/190
"We delivered everything we set out to accompish this weekend. Get everyone out of their homes, out of the tour vans, and join us in the mountains & lakes of New Hampshire and spend an epic weekend all together having a friggin blast."
- Mike & Andrea
30/190
"We are just happy and ready to be married. We were thankful for the moments when we could steal away and share our happiness for the occasion. Such playful love in our faces!"
- Rachel & Virat
31/190
"Later that weekend, this body of water would be filled with our guests kayaking, water skiing, and swimming. Punk rock summer camp would kind of be the theme. It really was the best of times."
- Andrea & Mike
44/190
"Hahah! There are many options for this picture's caption and I'm not sure we can nail it down. I do know that I was probably mid-andre3000-walkitout verse and that I was having as much fun as Mike was lifting up my skirt."
- Lesley & Mike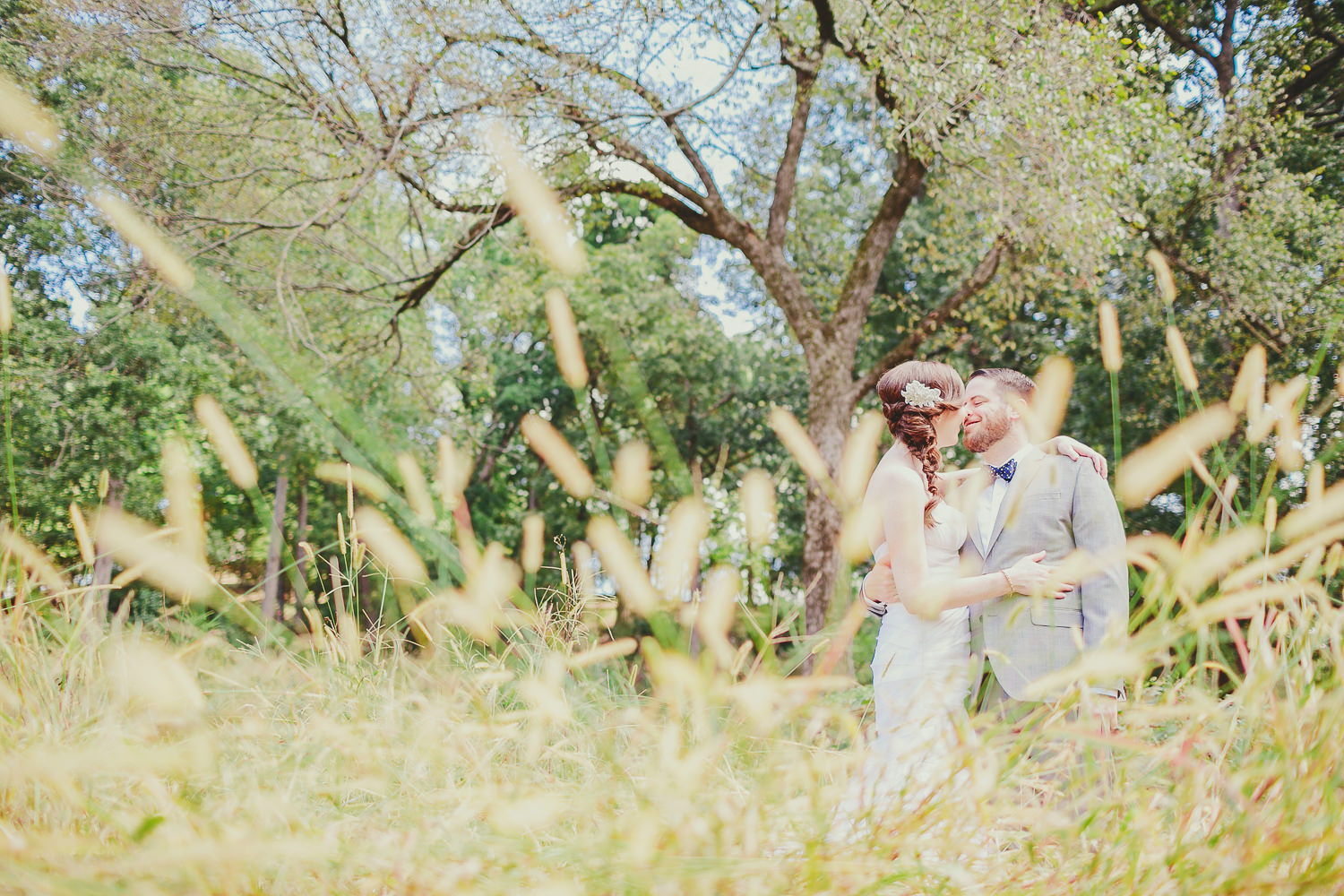 45/190
"This is so beautiful. It makes us want to relive the day, weeds up to our waists, 90 degree weather and all."
- Daniel & Amy
46/190
"A rather unsightly place and turned it into not just a play on words but an extraordinary moment we will never forget. When we went inside to ask permission for the shot, even the bondsman said something like "Sure, but I don't know why you'd want to." The resulting image captured both the beauty of our wedding day and the unique character of our hometown."
- Allison & Matt
47/190
"When you can't dance to save your life and you have a retired ballerina for a husband you get used to lots of springing around. Matt inspired and captured a moment that so sums us up."
- Amanda & Tyson
48/190
"The Seattle library is full of awesome colors and textures. I wouldn't not of thought of this on this red level. I love the contrast in this pic and the women's bathroom sign because I'm shaped just like that. Its perfect!"
- Carrie & Rich
49/190
"Christina & I had dated for a while before getting engaged & getting married. We've been through thick & thin together. Our love has not just survived, but flourished through trying times. She's been my best friend, my biggest fan, my true partner since my early 20s. When the day came to commit my love to this woman, I had never been more sure of anything in my life. I know that as long as I live, she will always drive me crazy."
- Josh & Christina
50/190
"Everything about this photo is amazing. My new husband & I are dancing together, he's checking out my butt (while I am wearing the greatest dress of my life), and all our best friends are in the background partying so hard. I love it all."
- Johanna & Jason
gallery 1
diamond eyes. specializing in non traditional weddings, punk rock bands, and marching to the beat of our own heartbeats. we make photos with passion, soul, and truth.
viva love.